Aquatech Pools: Brisbane Swimming Pool Builders
Do you want a swimming pool that makes an impact? A special pool with that WOW factor? One that stands out for the quality of its finish and is custom-designed to complement and blend with its surroundings? Are you looking for Brisbane swimming pool builders you can trust?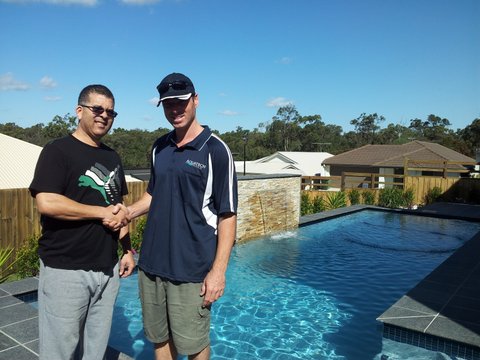 Aquatech Pools will provide expert design and construction advise for concrete swimming pools in Brisbane and surrounding areas, offering a comprehensive design package, which will transform your garden, make your kids happy and enhance the beauty and value of your home.
Our custom swimming pools are built from steel-reinforced concrete, meaning they can be constructed to any size and shape on any site.
Besides being beautiful, all construction details are engineer-designed, guaranteeing structural integrity and great durability to your swimming pool.
Using superior quality materials and finishes, Aquatech Pools ensures attention to detail in every aspect of design and construction. This guarantees an excellent result that will give you many years of swimming pleasure and greatly enhance the value of your property.
An inground swimming pool is a major investment and can add significant value to your home or property. Aquatech Pools are the professional swimming pool builders you can rely on to transform your dreams into reality.
Get a Free Fence around your new dream pool (up to 12m)
Get design, style, comfort, quality and luxury in your pool with endless choices!
Does your concrete swimming pool need renovation, repair or resurfacing?
Get swimming pool renovations, repairs or resurfacing to suit your budget and lifestyle
Request your Personal Consultation Now