Do you require concrete swimming pool renovations, repairs or resurfacing? Are you looking for professional, reliable and affordable swimming pool renovators?
Get a free site inspection to ascertain your concrete swimming pool's needs, so you can make an informed decision.
Get the benefit of practical ideas, options and solutions that comes from our long history in swimming pool renovations and repair services. We can re-design your pool, prepare documentation for applications based on council requirements and manage your entire swimming pool renovation project from start to finish.
We are simply experienced and capable renovators you can trust.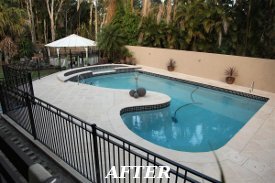 Check out the video below and see why we are the best at pebble pool finishing
We Specialise in:
Re-design and renovation of concrete swimming pools
Replace existing waterline tiles to repair the floor and walls of your swimming pool
Replace existing external coping course
Re-model your pool's shape and features e.g. waterfalls
Full range of interior finishes.
During your swimming pool renovations, we can:
Replace or upgrade existing pool lights
Replace skimmer boxes
Supply and install new filtration systems
Supply Pool Cleaning equipment
Turn your pool into a mineral bath with MagnaPool.
Why choose Aquatech Pools for your swimming pool renovations or repair?
We are a certified member of the Queensland Master Builders' Association
We are members of SPASA Queensland
85% of our business comes from referrals from happy customers
We are a family owned and operated business
We provide professional workmanship and we guarantee personal service
With over 20 years of swimming pool renovations and construction experience, we can custom design your swimming pool renovation to suit your budget and lifestyle.
Gallery 1
Gallery 2
Gallery 3
Gallery 4
Gallery 5
Gallery 6
Gallery 7
Gallery 8
Aquatech Pools Renovation happy client list
Whilst attending the Home Show we had left our contact details with several pool companies to contact us in regard to doing a quote to renovate our pool. Aquatech Pools, the first company to follow up on the initial contact, were willing and available to attend within a conveniently short period of time and we received our quote from them before either of the other 2 companies we had selected had even been to the property. After comparing quotes we decided to go with Aquatech Pools as, not only was the price comparable, but they were happy to take the time to discuss, negotiate and advise as required. Of course, as with any large project, we encountered some issues along the way – but Andrew was always available to discuss any problems and diligent in his efforts to resolve them. End result? Fabulous! We love our "new" pool and our confidence in Andrew and Aquatech Pools is such that we have already referred one of our friends!
Andrew and the great guys from Aquatech took our 30 odd year old concrete pool which had basically died the death and they converted it into something that was beautiful and modern looking with its Midnight Blue pebble finish and Mediterranean Blue tiles, incorporating a low maintenance salt water chlorination system, all for a very reasonable price.
They completed the work within about a week of very hard effort. We had a rust stain problem in one area due to the original concrete being too thin there but they removed the rusty steel piece and filled the hole and fortunately there were no other rust problem areas in the pool.
The old tiles were removed along with the old finish and they then installed the new tiles. After that, they sprayed on the new pool finish in one day. The pool was filled with water and we then had a few weeks of brushing to remove dust and adding chlorine and acid to balance the pool before the salt was added and the automatic chlorination system initiated.
Andrew is a very nice guy to deal with and he clearly fills his customers with confidence that the job will go exactly as he says it will and he does not disappoint. We had seriously considered having the pool removed as our kids have grown up and left home but now we are so glad that we decided to have the pool renovated as it is definitely a great improvement to the asset of our house.
I would happily recommend Aquatech Pools to anyone interested in having their pool renovated.
Dear Andrew,
I just wanted to thank you for the work you and your team did in resurfacing my pool and making it look almost new again.
All the people I dealt with were very friendly and knowledgeable and the job was done quickly and to a high standard.
I also appreciate the advice you gave me firstly around choosing the right colour and secondly around the maintenance during the initial 3-4 weeks after the resurfacing to ensure the best result. While it took a bit of effort on my part, the pool is looking great and the kids can't wait for summer to get here to try it out.
Thanks again.
Hi Andrew,
Just a quick note of thanks to say how delighted and happy we are with our swimming pool renovation you did last month. We appreciated your professional approach, honesty and expertise. We have referred you to two of our friends.
Dear Andrew and the Aquatech team,
It was great dealing with you – our old pool now looks like a brand new one. Our site was left clean and tidy after each process of the renovation. We would recommend Aquatech Pools to anyone wanting a quality renovation which stayed in the quoted price and time frame.
Andrew came up with some great ideas to change the look of our pool. He had lots of patience as we went to and fro from colour choices. Aquatech Pools are reasonably priced, communicative and honest. I would recommend them anytime. Final payment was done yesterday.
Well done chaps.
Nothing was a problem for these guys and all completed in less than a week. A job well done. Thank you.
Hi Andrew,
Thanks again for renovating our pool, it was a pleasure dealing with you and your crew. I will send through the night shots when I get a chance.
All the very best,
We recently used Aquatech Pools to renovate our 30 year old large concrete pool. From the outset, Andrew was professional to deal with and offered us great ideas and options to transform our pool.
Andrew delivered on his promises and the end result looks fantastic. We have, and will continue to recommend Aquatech Pools to our friends and colleagues.
Thanks guys
Dear Andrew,
You and your company did a great job with our swimming pool renovation. We received 3 quotes with your quote coming in the middle. The pebble finish is smooth and the kids love it.
Good luck with all your plans,
Hi Andrew,
Thank you for renovating our pool. It looks great. I would highly recommend Aquatech Pools to anyone who is after a top class job combined with excellent service and delivery.
Best wishes,
We would like to thank Aquatech Pools for the awesome job in renovating our swimming pool. We had just completed the renovation of the house and the pool was next on the list. After many quotes, we choose Andrew from Aquatech Pools because of his experience, knowledge and professionalism. It was also great to deal with one person from start to finish. Good luck with your business.
Regards
We would gladly recommend Andrew from Aquatech Pools for your swimming pool renovation. He was patient, reliable, contactable and nothing was too much trouble. He also introduced us to his landscaper who did a great job. He was slightly more expensive than the other 2 quotes I received but this was made up by the professional service we received. Thanks again,
Request your Personal Consultation Now